Cemetery Research and Preservation
The AAS station at ASU is now recording all cemeteries in our 15 county area. Some of these have totally disappeared due to farming, commercial and industrial practices. Many others are seriously endangered. We are working closely with area genealogical and historical societies to locate and record every cemetery possible as an archeological site in order to preserve a permanent record of their locations and contents.
Thanks to genealogists, and family historians we have started visiting some of the most endangered cemeteries in Craighead County. If not for our informants, we would never have been able to locate some of these remote sites. Sadly some of these cemeteries have already disappeared. Because of the sheer numbers of those needing to be recorded, this task will be an ongoing project for years to come.
There are over 100 cemeteries that have been reported to us by area residents and historians. We plan to visit each one, gathering GPS data, location data, and the number of graves in each cemetery that can be determined both marked and unmarked. This information will be permanently recorded with the Arkansas Archeological Survey.
Contact us: jmorrow@astate.edu
The AAS station at ASU includes a 15 county area of Northeast Arkansas. As time permits, we hope to provide additional research information on all counties under our jurisdiction.
We welcome any information you may have on any cemetery not only on our current research in Craighead County, but also those in Clay, Crittenden, Cross, Fulton, Greene, Independence, Izard, Jackson, Lawrence, Poinsett, Randolph, Sharp, St. Francis and White counties.
The laws protecting these graves are not being respected nor have they been enforced: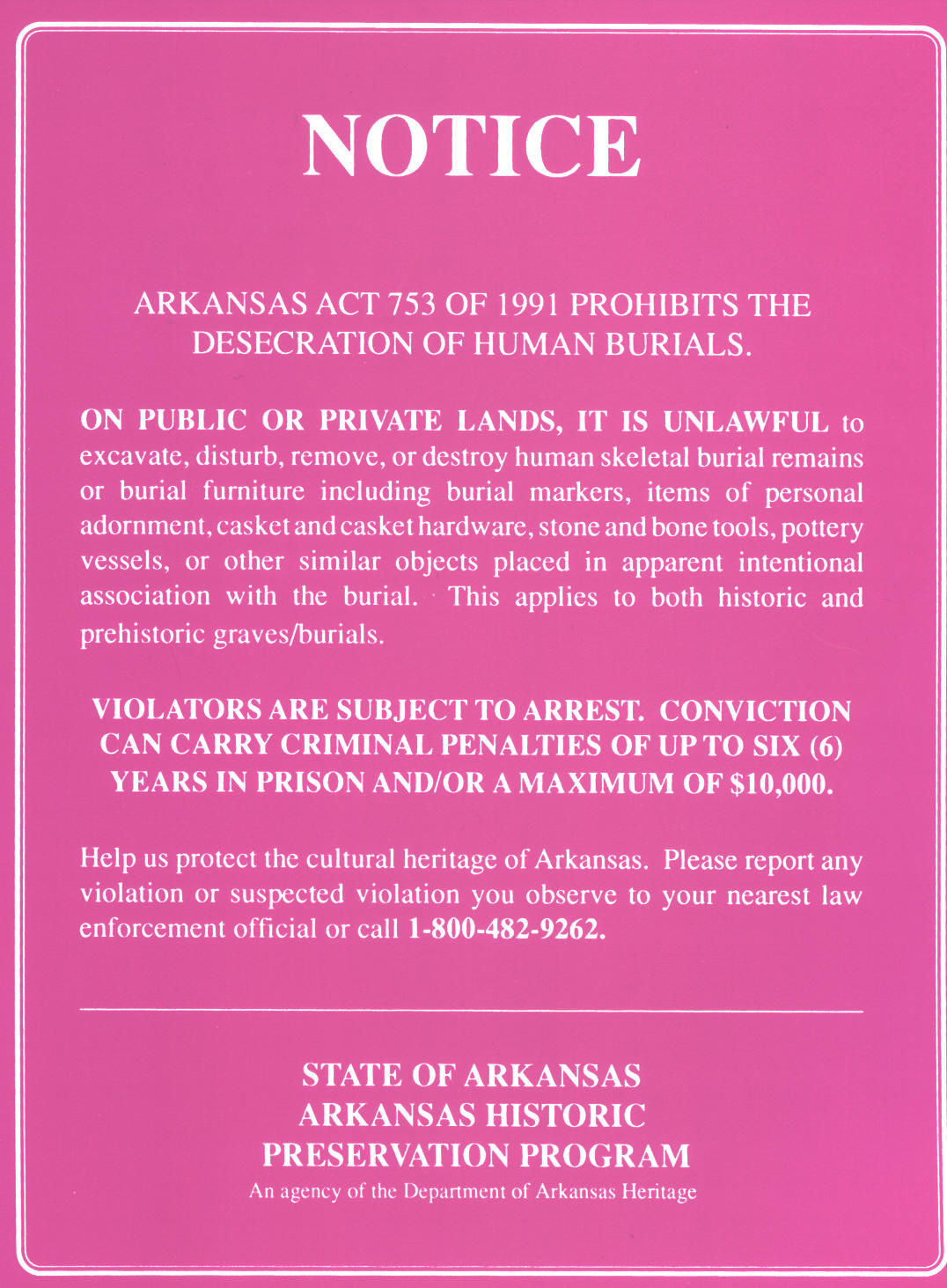 Craighead County Cemeteries
You may click on links for more information
f
GONE BUT NOT FORGOTTEN CEMETERIES
These Cemeteries are listed in Volume I of the Craighead County Cemetery Books
published by
The Genealogical Society of Craighead County, Arkansas.
Bay Spur Harris Old Nettleton
Cooper's Ridge Old Buffalo Island Old Trinity
Davis Old Folks Home Pierce
Gatlin Old Mangrum Walnut Grove
Old Negro
Other information and locations of destroyed cemeteries
We have been informed that the "Old Nettleton" cemetery listed above is now underneath Samantha Drive in a subdivision off Hwy 18 E. This cemetery was reportedly destroyed in the 1940's for reasons unknown at this time. We welcome any pictures available of these cemeteries.
Another single grave found on our maps is located near Bono but only the marked by "Grave". The name is not known.
One more cemetery shown on early USGS maps is shown to be located on the same lot near the same location where the Sixth Grade Academic Center is now located. We do know this lot was an early location (according to the original plat maps of Jonesboro) for one of the first negro schools, but as of this date have found no proof of a cemetery on the property. This cemetery is shown to be larger than the City Cemetery shown on the same quad map at that time.
Memory Garden Site # 3CG1071
This African American cemetery, dedicated in the 1950's, was destroyed upon construction of the NEA Clinic on Parker Road. The salvageable remains were reburied in the Knights of Pythias Cemetery located on Strawfloor Road. A monument was erected above the mass grave of 16 coffins moved to this cemetery. The Black Cultural Heritage Center of Jonesboro houses a display of the items found after digging through the rubble. Articles of clothing, broken stones, hardware and pieces of the lining of caskets were recovered by the group.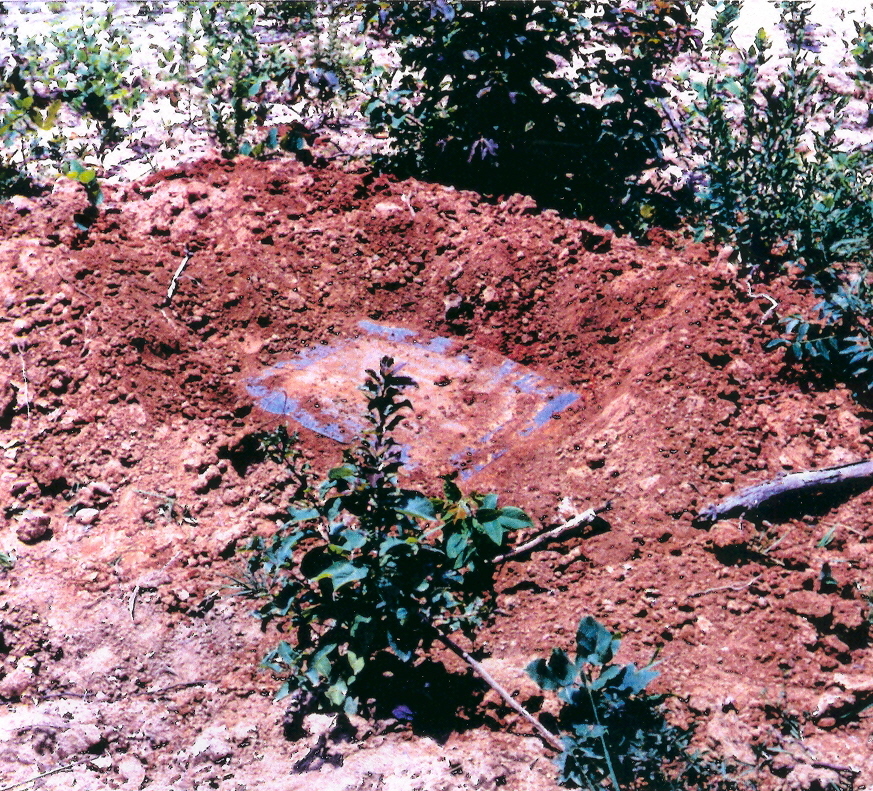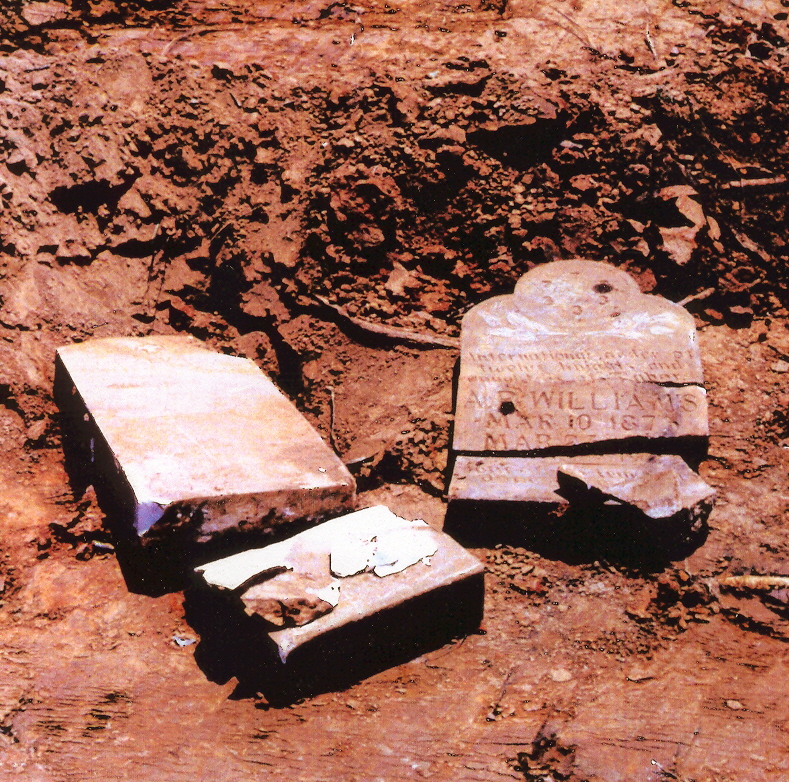 Henry Webster Davis
Photos and directions provided by Bill Couch
http://www.couchgenweb.com/craighead/websterd.html
This single grave was once enclosed with an iron fence behind a house off old Greensboro Road at Greensboro. A gravel pit was dug around the grave until it collapsed. The stone was taken to a house 1/4 - 1/2 mile from the original location.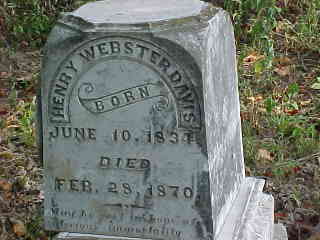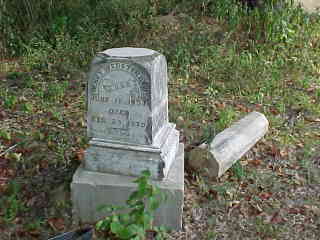 Lester Cemetery - Site # 3CG1142
The two pictures below show what is left of the cemetery at Lester. According to a local informant the Corp of Engineers built a levee near or over the cemetery (levee not shown in this picture). There are no stones left and area residents report that coffin hardware has been found eroding out of the St Francis River ditch immediately adjacent to this cemetery. The site is currently used as a dump.
For more info: http://www.couchgenweb.com/craighead/lester.htm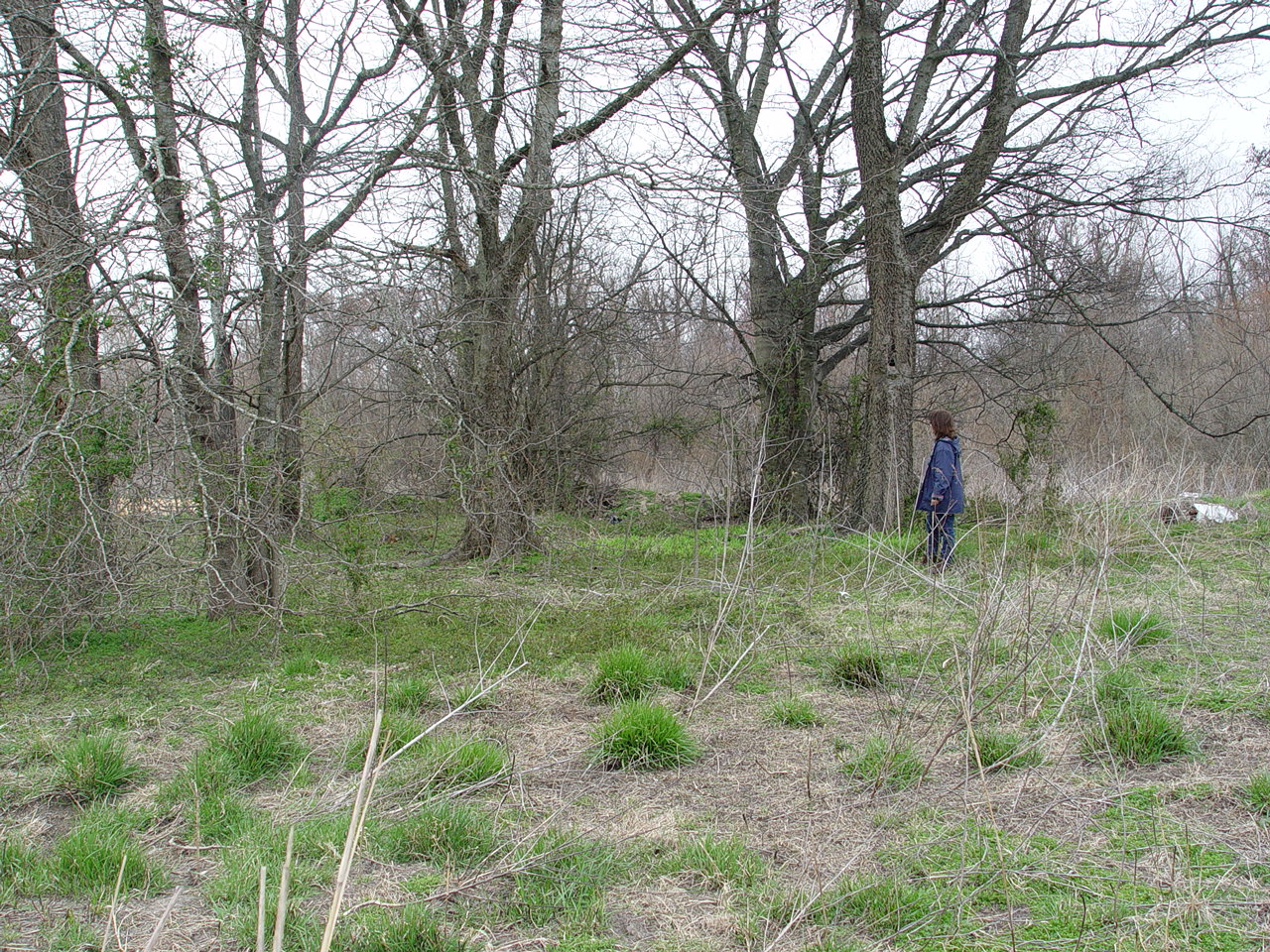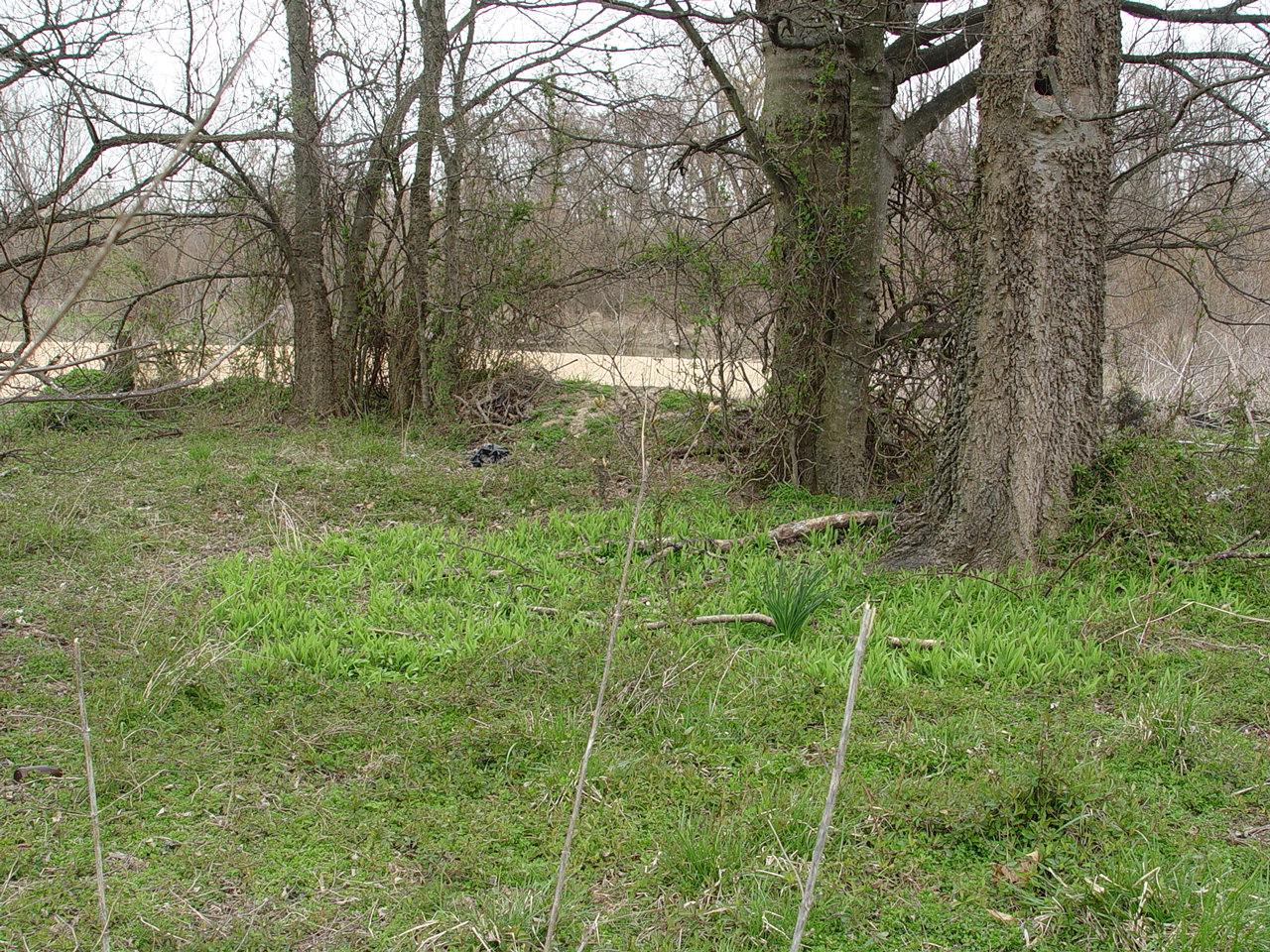 Lunsford Cemetery - Site # 3 CG 1140
This site consists of an area that is minimally 60 X 60 meters, at the intersection of two paved county roads 1.5 east of Lunsford. The site itself is overgrown with briars, brush and trees. We have been told that this location was originally an Indian Mound, a white cemetery and a black cemetery. At the time of this visit we did not go into the overgrown area, but found one tombstone at the margin of a recently plowed field. The stone belongs to the grave of Irene Bynum, born 1867 and died in 1924. It is unclear where her actual burial is at this time. This is the only stone that was visible. The amount of underbrush where the remainder of the cemetery is supposed to be located can be seen in the second photo.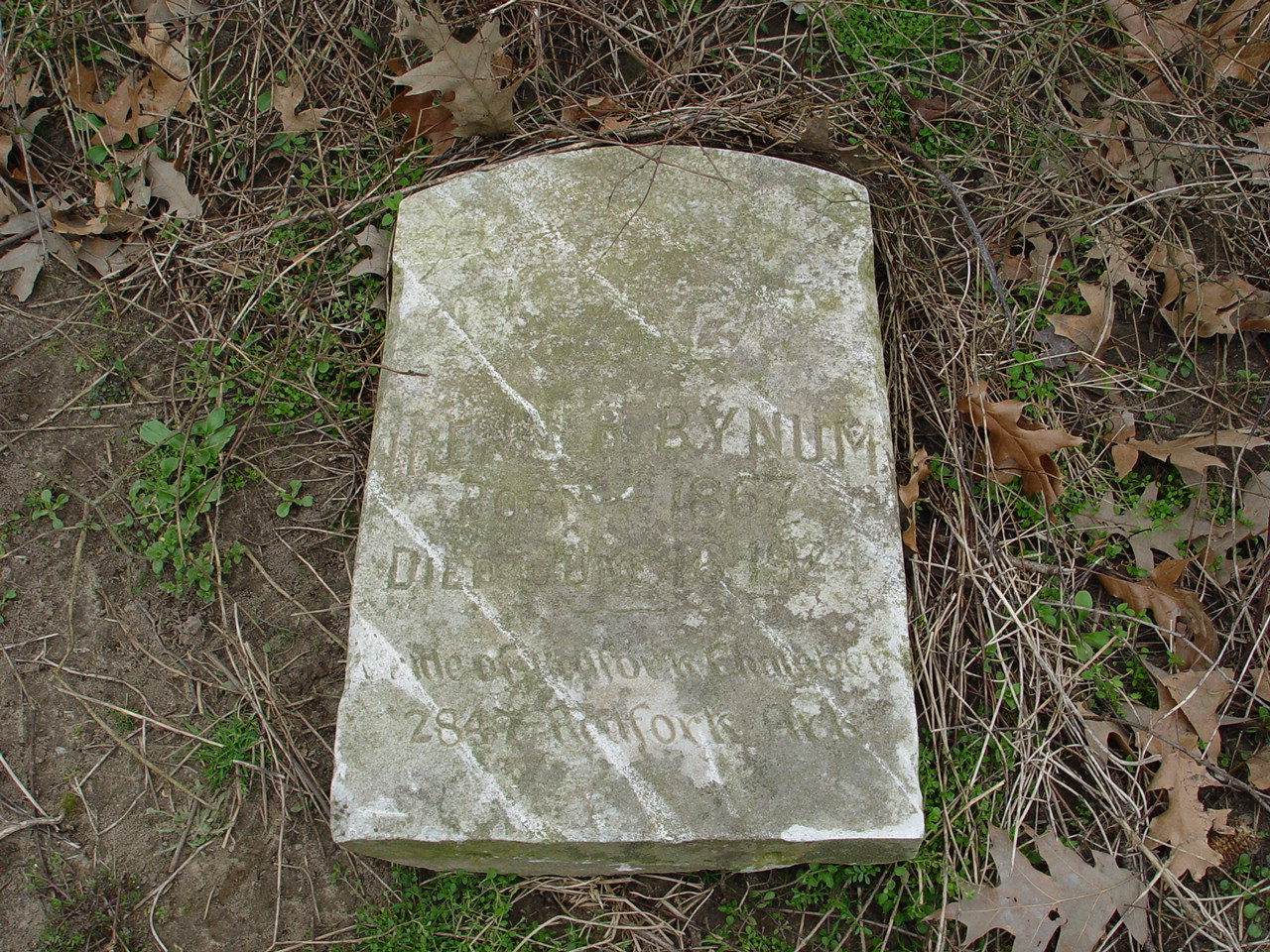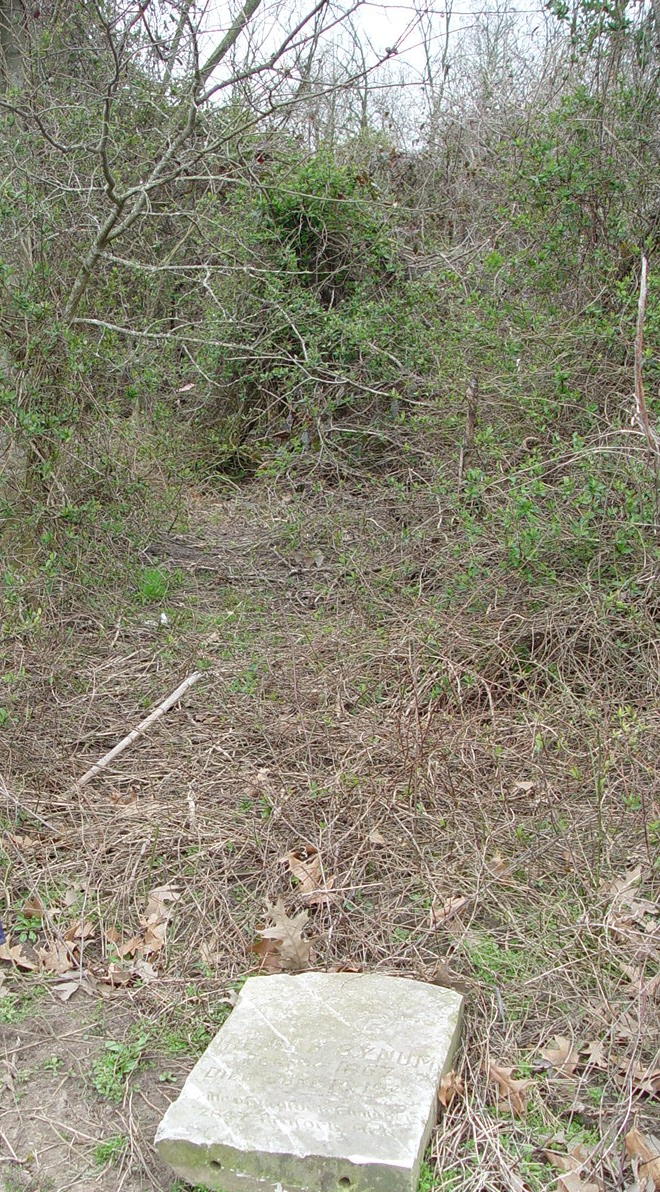 New Haven - Burke Cemetery - Site #3CG1149
This site is very overgrown with several trees, some very large and many smaller trees, and abundant undergrowth. Depressions indicate many unmarked graves. A few large stones are present along with a few smaller broken stones. The cemetery also has large concrete corner markers. This cemetery was originally referred to as the New Haven Cemetery because it was given to the old New Haven Methodist Church. It is located in an extremely remote area. Bill Couch has recorded this cemetery and calls it the Burke Cemetery because of the family names on the stones. As large as this cemetery is, we would never have found without the guidance of Bill Couch. The cemetery is just behind this first pine tree, but cannot be seen until you are right beside it. For individual graves see http://www.couchgenweb.com/craighead/burk.htm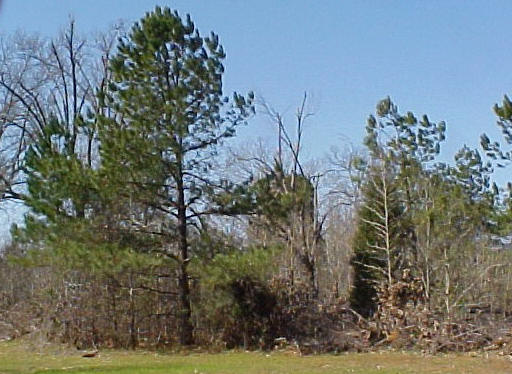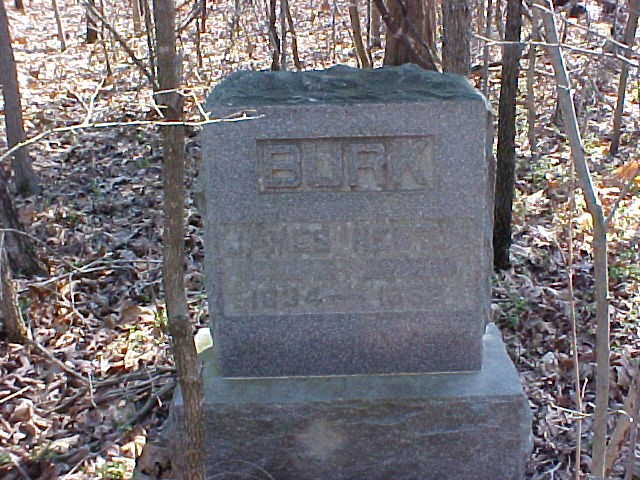 Claunch or Walnut Grove Cemetery - Site # CG1144
We are not sure that Claunch and Walnut Grove are the same cemeteries but neither can be found and both are near the same location. Until proof is obtained that they are indeed separate cemeteries, we are recording them here as one and the same. Local people around the Lester and Walnut Grove community informed us that the cemetery now lies underneath the Walnut Grove Baptist Church parsonage. This photo is of the supposed location.
http://www.couchgenweb.com/craighead/claunch.html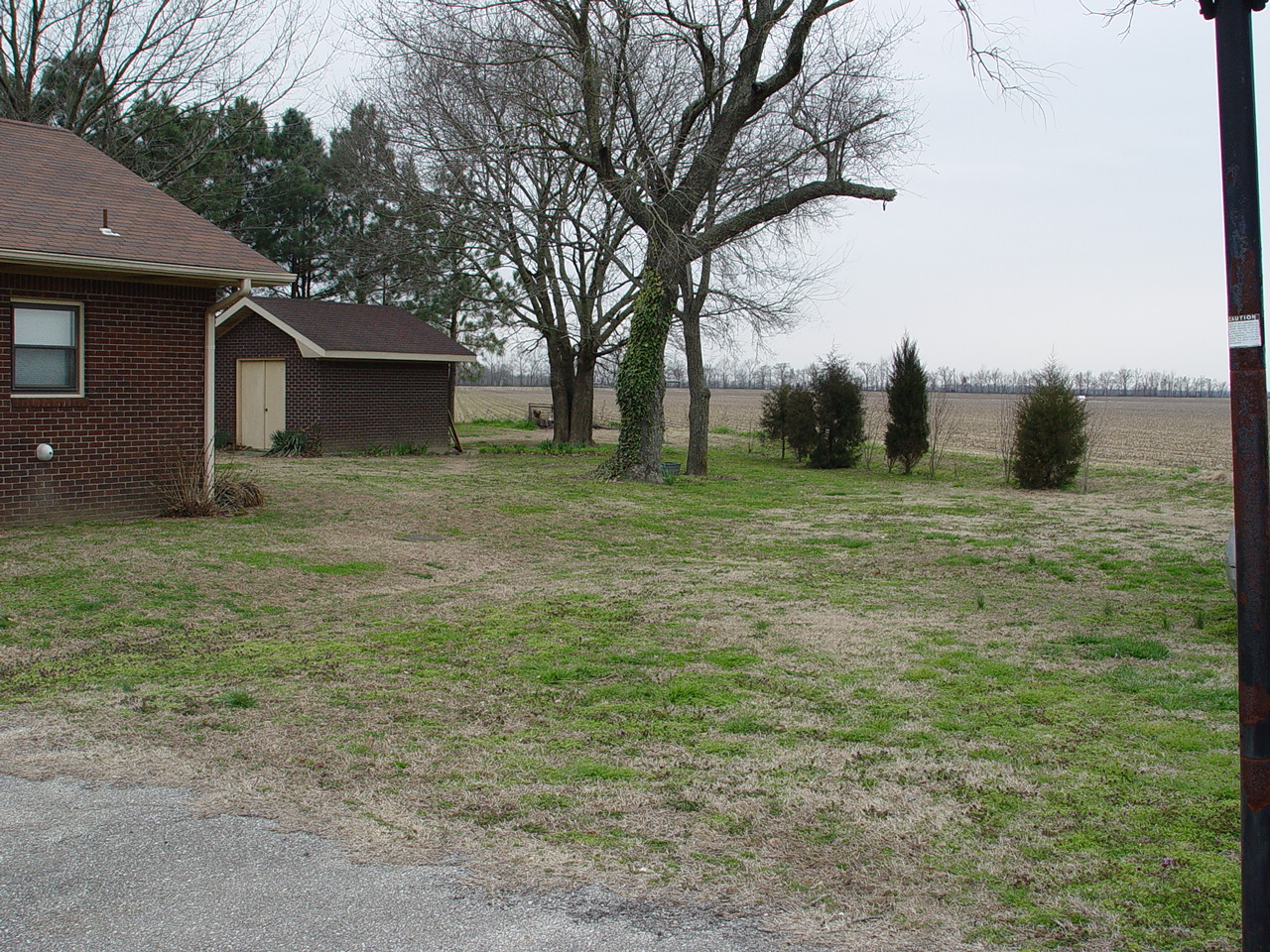 This site will be continually updated as photos become available.