---
For additional information, particularly about fungal species mentioned in the subsequent text, also refer to the paperback, Medically Important Fungi: A Guide to Identification by Larone.
---
Superficial Infections
Cellular response of host usually absent - no pathology elicited by fungus
Organism remote from living tissue (primarily in the stratum corneum - compact dead layer of skin).
Infection is insignificant and ignored by bodies defenses.
Identification accomplished several ways
Visual Inspection
Wood's lamp - U.V. lamp to look for presence of fluorescence.
Scraping off cells onto a slide and clearing tissue with 10% KOH and flaming the slide. Look for fungal tissue (e.g., mycelial fragments, yeast cells, spores). These slides are not permanent because the KOH causes cells to breakdown over time - too caustic!
Stripping tape - Scotch tape is pulled of skin, mounted on a slide, and stained with crystal violet, methylene blue, or iodine.
Isolation and subculturing of fungus.
---
OTOMYCOSIS
chronic infection of the ear - usually in children.
Most culprits for this malady are species of Aspergillus (A. niger), Scopulariopsis, (S. brevicaulis), Penicillium, Mucor, and Rhizopus.
Some infections are caused by yeast.
Occasionally, infection may lead to deeper infection involving cutaneous tissue; in these cases inflamation, pruritus (severe itching), scaling, and severe discomfort.
Fungal Growth in the Ear Canal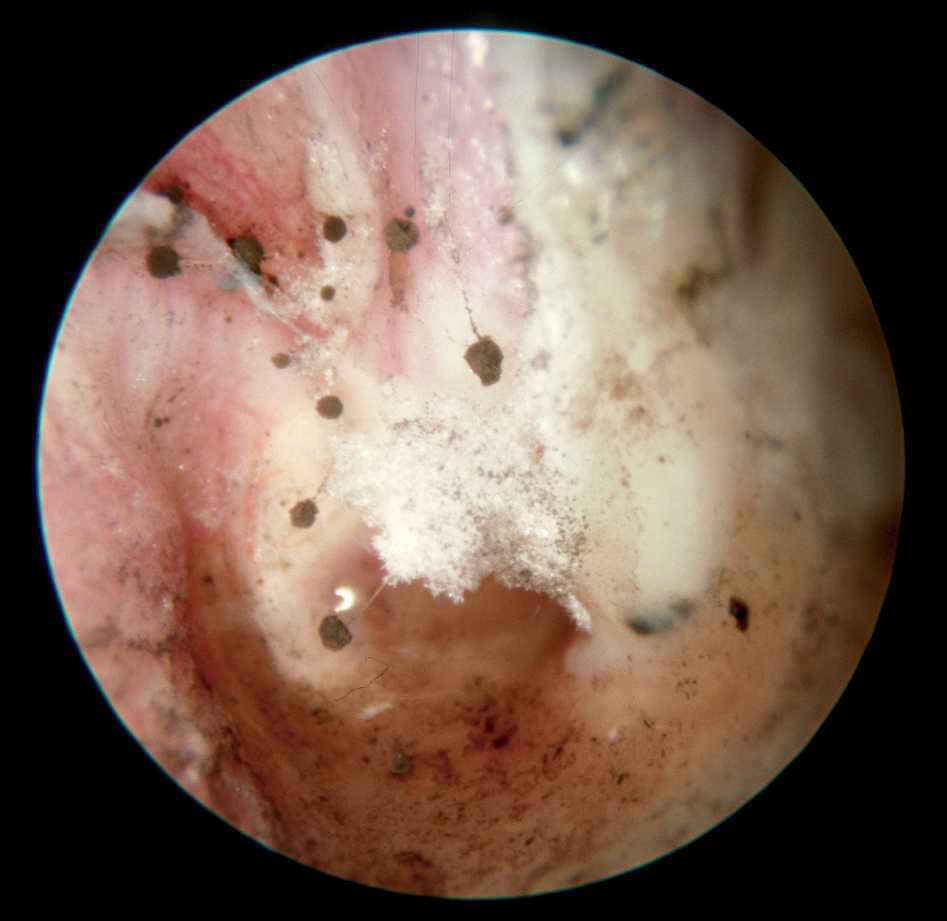 ---
Fungal Growth in Culture (Aspergillus niger)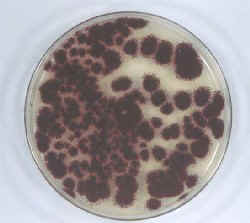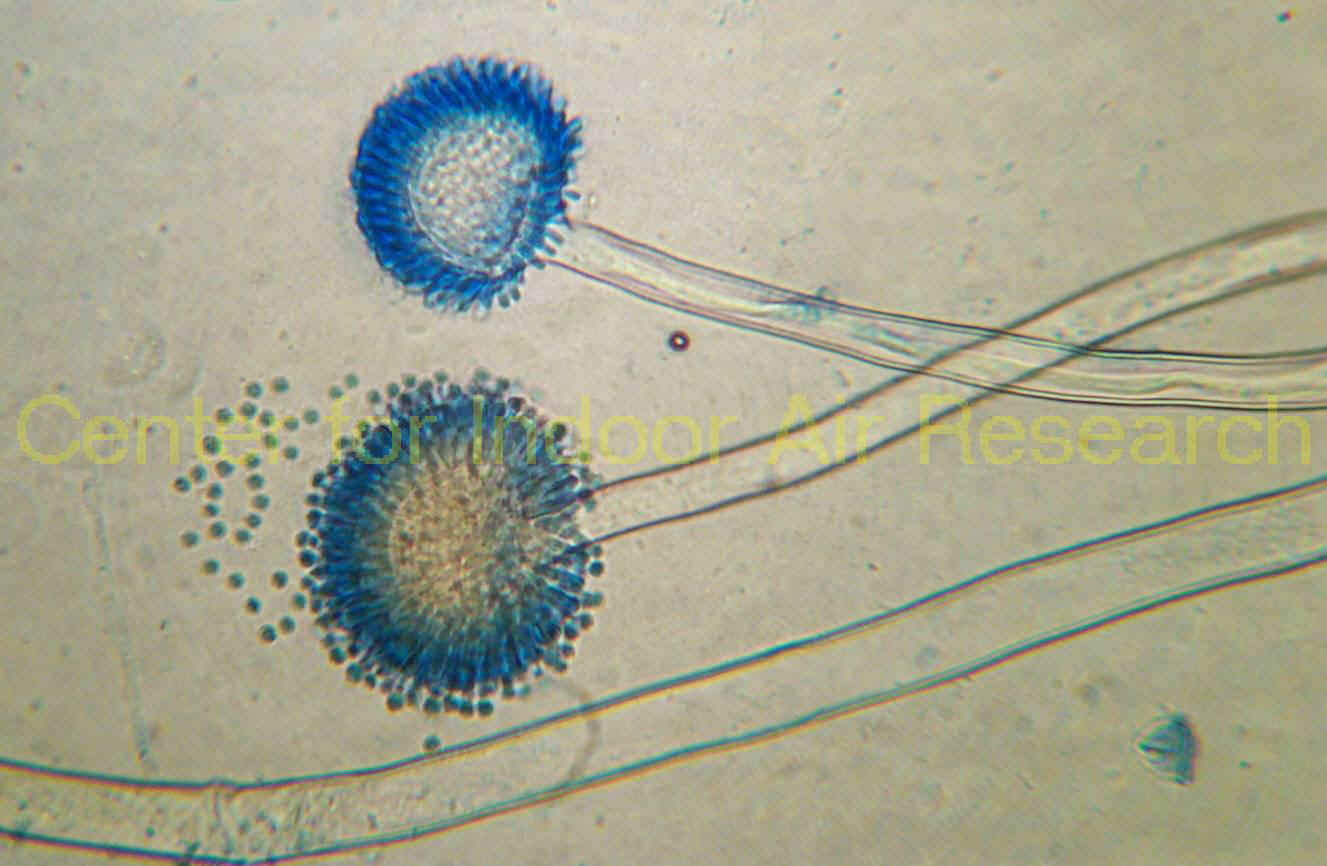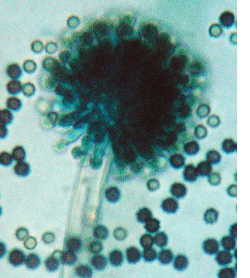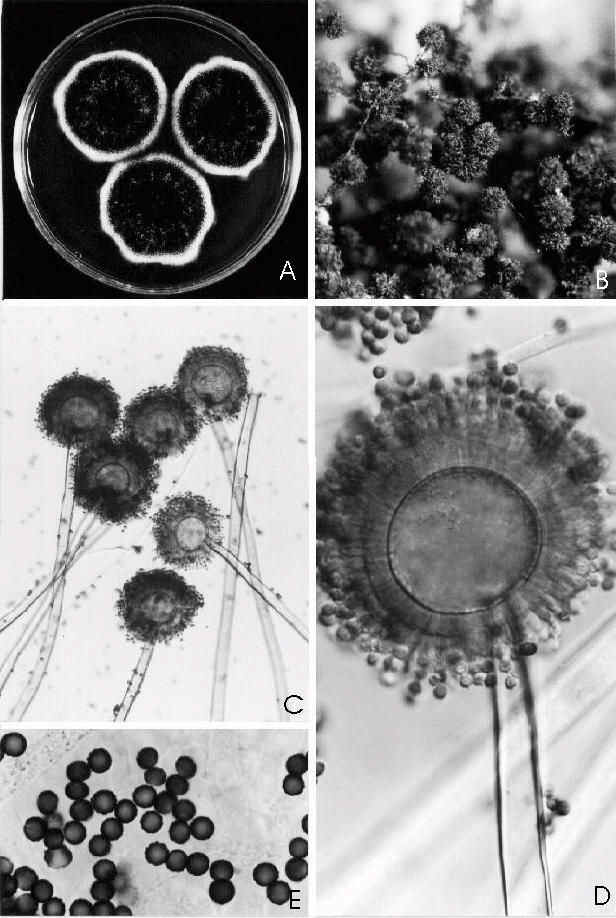 l
---
Scopulariopsis, (S. brevicaulis)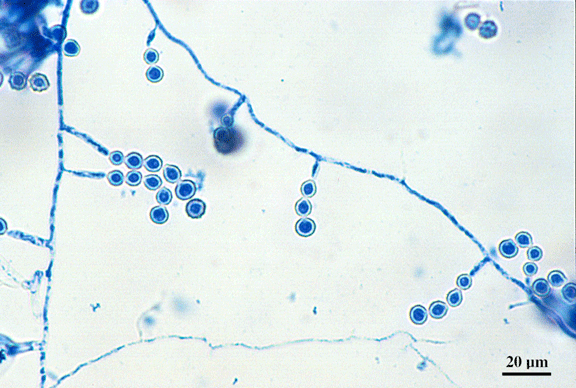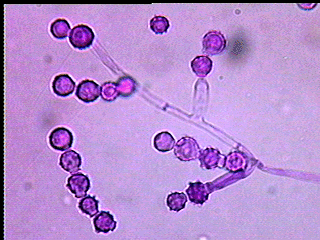 ---
Penicillium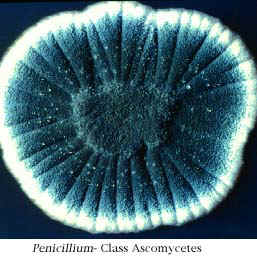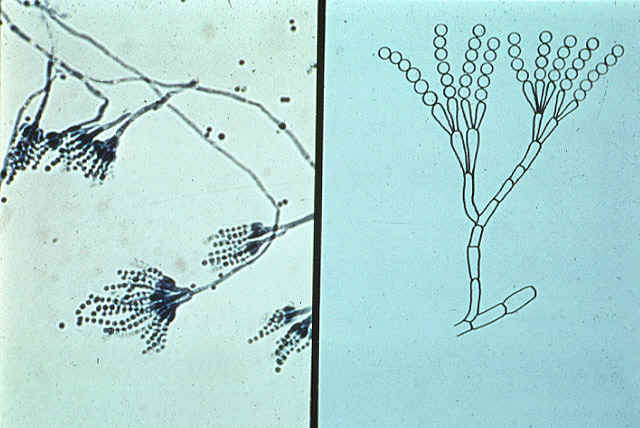 ---
Mucor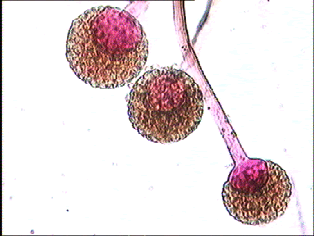 Rhizopus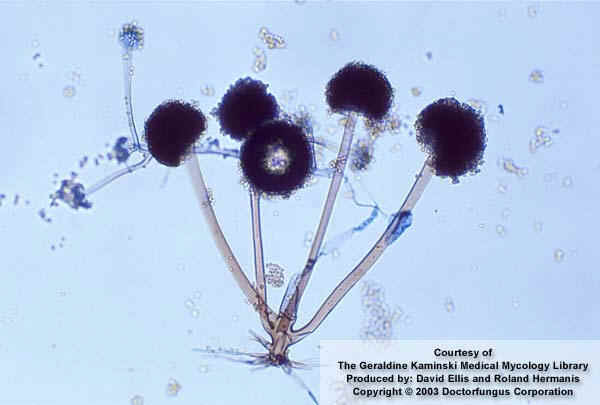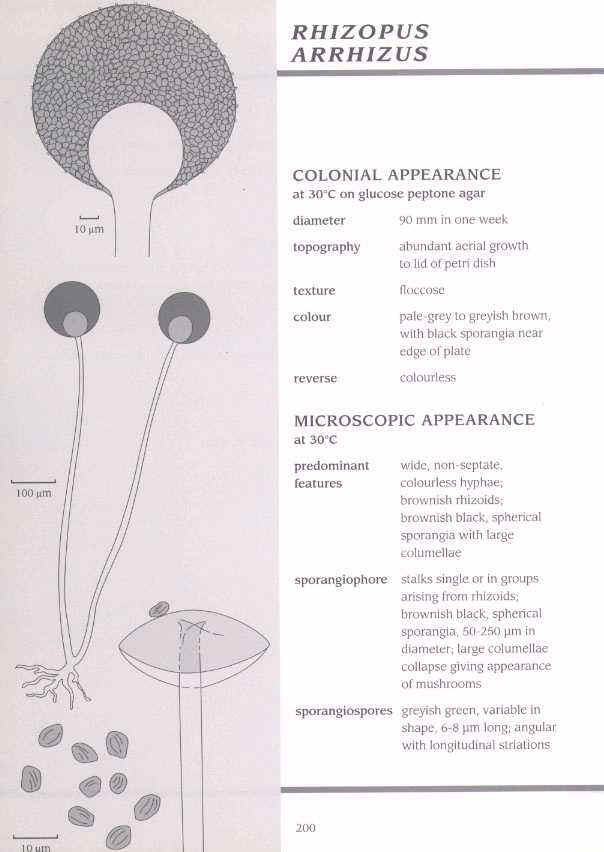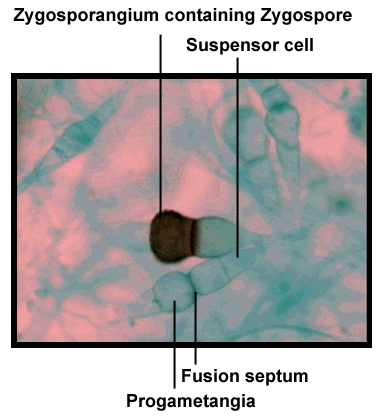 ---
---
PIEDRA
hair shaft infect characterized by the presence of firm, irregular nodules
may cause hair breakage
infected areas do not fluoresce when exposed to ultraviolet light
White piedra (Trichosporon beigelii)
white piedra occurs on hair in the beard, axillary regions, groin region, and less frequently on the scalp.

found in temperate regions including the U.S., Europe, Orient, and tropics (South America).

usually associated with poor body hygiene and also in immunosuppressed patients.

pathogen originates from environment, such as soil, stagnant water, spoiling fruit and food and can be part of the normal skin microflora.

If sexual or perfect stage of the fungus is ever discovered, most likely it will be a basidiomycete due similarity between the ultrastructure of the hyphal cross walls (dolipore septum is present) of this fungus with those found in the basidiomycetes.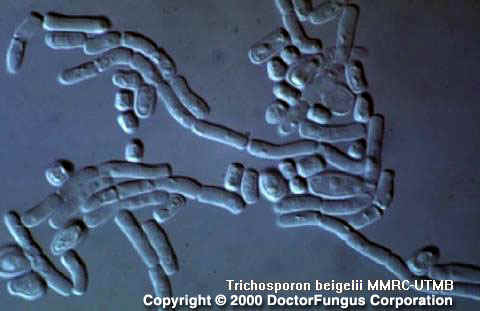 Black piedra (Piedraia hortae or P. hortai - Refer to Figures 34-36 on page 53 in the textbook)
caused by an ascomycete that produces stony nodules [stromata] that contain locules with asci and ascospores)
source of infection is soil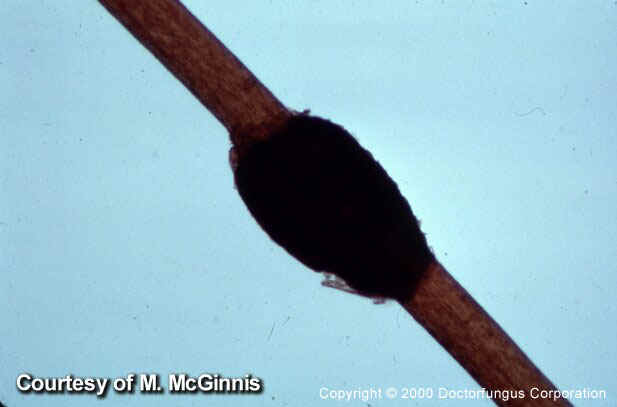 Identification
make slide using infected hair soaked in 10% KOH solution and examine under microscope
for Piedraia hortae look for locules in the stony stroma and asci (with 8 ascospores).
for Trichosporon beigelii - material detaches easily form hair shaft; material consists of yeast-like conidia called blastoconidia and a loose network of hyphae. No ascospores are ever seen.
Both types of piedra are easy to treat!
shaving or cutting away infected hair
application of topical fungicides ( such as, HgCl2 (1:2000), benzoic and salicylic acid combinations, 3 percent sulfur ointment or 2 % formalin)
---
---
PITYRIASIS VERSICOLOR
caused by Malassezia furfur (etiologic or causal agent) and other Malassezia species
Yeast cells occurs in the stratum corneum - compact dead layer of skin
cause discovered 150 years ago
lipophilic yeast (In culture, olive oil is added to medium)
chronic, mild, usually asymptomatic infection of the stratum corneum
desquamating (peeling) macules (discolored unraised area of skin)
skin cells come off in patches with Scotch tape
fairly common and benign disease
chest, abdomen, upper limbs, and back
on lighter skin, the macules appear dark in color
on darker skin, the macules appear light in color
exposure with Wood's lamp causes patches to fluoresce yellow to golden
look at skin scrapings under the microscope (soak skin scrapings with KOH solution to clear tissue) - mycelial fragments and budding yeast cells.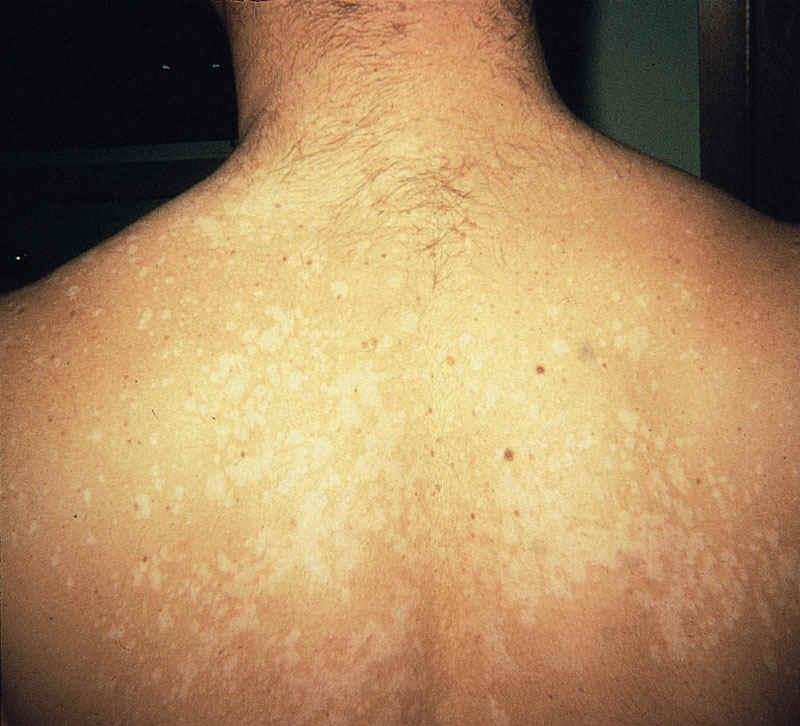 Treatment
topical application of Whitfield's ointment (contains salicylic acid), fungicidal agents such as miconazole, and others to a lesser extent.

hot soak baths twice a day to remove dead skin.

washing clothes with Clorox- sodium hypochlorite to disinfest these.
---
---
TINEA NIGRA
superficial asymptomatic fungus.
infection of the stratum corneum characterized by brown to black non-scalelike macules often on the palms of hands.
etiologic agent - Exophiala werneckii (Sometimes called Cladosporium werneckii).
the word "tinea", refers to ringworm (in this case, not caused by a dermatophyte), while the word "nigra" refers to black macules associated with this disease.
resembles a silver nitrate stain but irregular.
sometimes confused with a malignant melanoma (difference being that melanomas are often raised)
primarily a tropical disease (Central and South America, Africa and Asia).
examine skin scrapings to find hyphae, which differ from a dermatophyte (colorless or hyaline hyphae) in being darkly pigmented, often brown to olivaceous in color.
hyphae are highly branched and septate.
Treatment - readily treated, over several weeks
Whitfield's ointment, miconazole nitrate in a cream base, as well as other imidazoles and triazoles applied topically.
griseofulvin treatment is not effective
sulfur ointments
tincture of iodine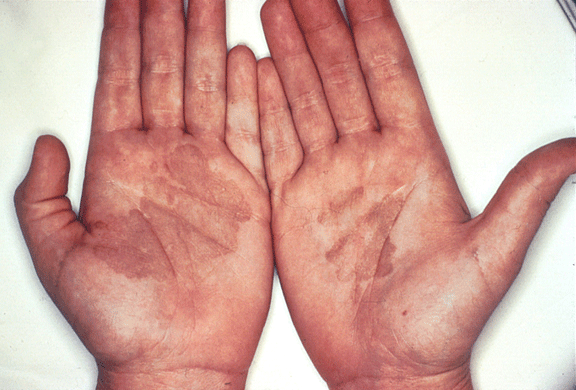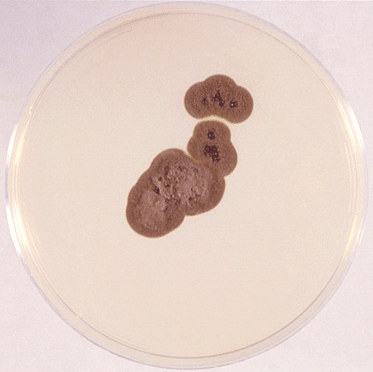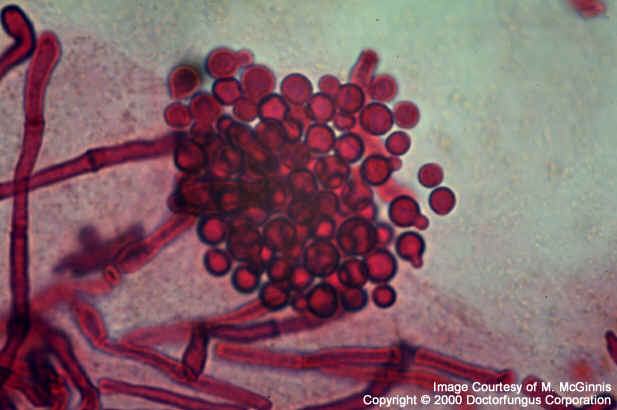 ---
Internet Links for additional information
---