---
Introduction to Biology of Fungi
---

OUTLINE

I. Brief Introduction to the Kingdom Fungi

II. Generalized Life Cycle of Fungi

III. Human-fungus Interactions
---

BRIEF INTRODUCTION TO THE KINGDOM FUNGI

The Kingdom Fungi is an ensemble of diverse species. Current evidence suggests that all fungal species are not derived from a single common ancestor, consequently the Fungi are polyphyletic (multiple genealogies or lineages).
---

I. COMMON CHARACTERISTICS OF FUNGI

1. Heterotrophy - 'other food'. There are three major categories of heterotrophs, which include the saprophytes, symbionts, and parasites. Saprophytes (feed on dead tissues or organic waste); symbionts (mutually beneficial relationship between a fungus and another organism); parasites (feeding on living tissue of a host). Parasites that cause disease are called pathogens. Some parasites are obligate parasites (require a living host to survive), while others are facultative or nonobligate parasites (do not require a living host in order to survive).

2. Body form
unicellular
filamentous (tube-like strands called hypha (singular) or hyphae (plural).
mycelium = aggregate of hyphae
sclerotium = hardened mass of mycelium that generally serves as an overwintering stage.
multicellular, such as mycelial cords, rhizomorphs, and fruit bodies (mushrooms)
Below: The sclerotium of Wolfiporia cocos or "tuckahoe" - the sclerotium is broken in two parts with a diameter of about 6 inches. Dug up from a flower bed near Jonesboro, AR. Photograph by M. Huss.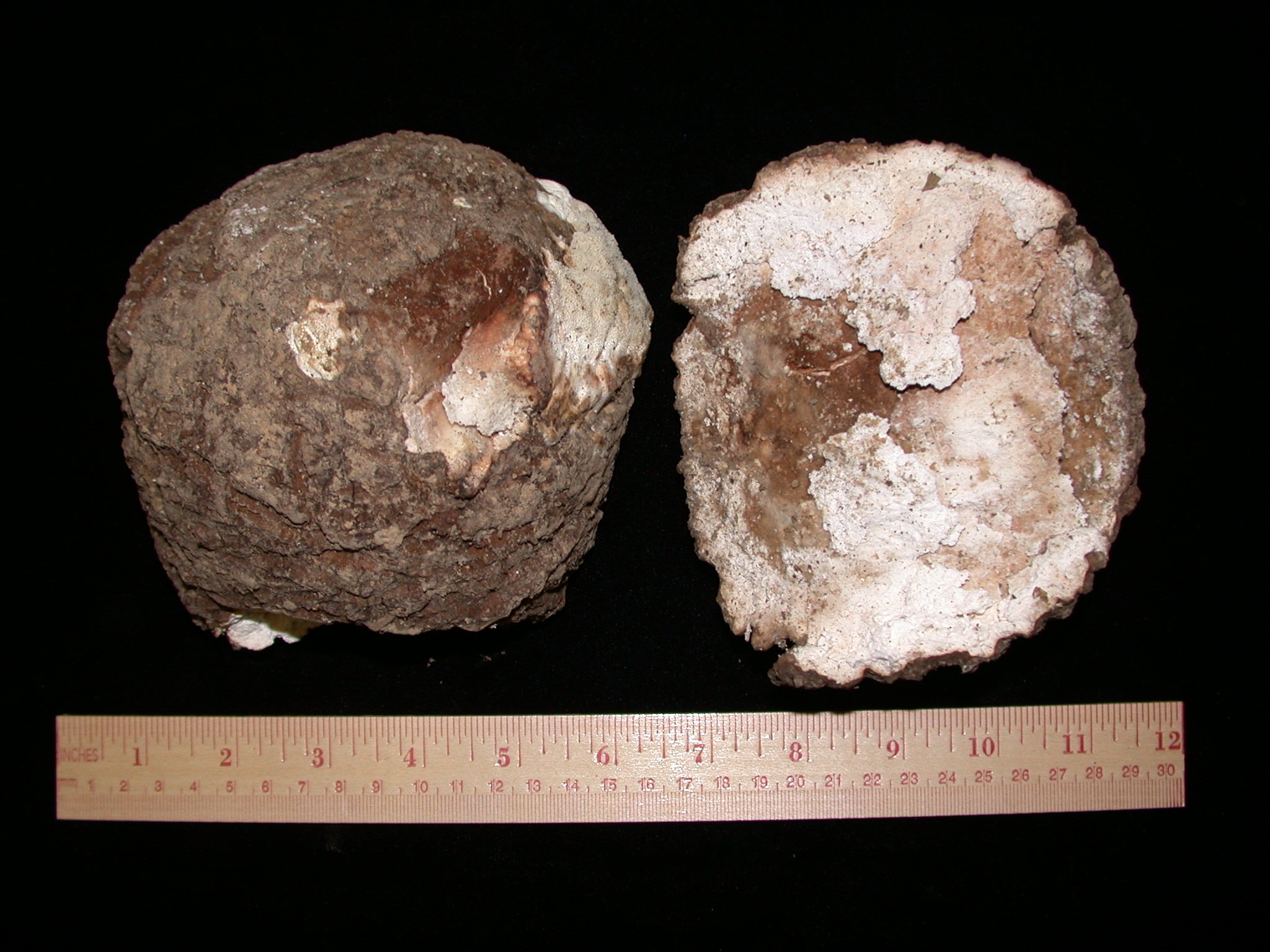 3. Fungus is often hidden from view. It grows through its food source (substratum), excretes extracellular digestive enzymes, and absorbs dissolved food.

4. Indeterminate growth.

5. Spores - asexual (product of mitosis) or sexual (product of meiosis) in origin.

Purpose of Spores

(a) Allows the fungus to move to new food source.
(b) Resistant stage - allows fungus to survive periods of adversity.
(c) Means of introducing new genetic combinations into a population.

6. Vegetative phase of fungus is generally sedentary.

7. Cell wall present, composed of cellulose and/or chitin.

8. Food storage - generally in the form of lipids and glycogen.

9. Eukaryotes - true nucleus and other organelles present.

10. All fungi require water and oxygen (no obligate anaerobes).

11. Fungi grow in almost every habitat imaginable, as long as there is some type of organic matter present and the environment is not too extreme.

12. Diverse group, number of described species is about 69,000 (estimated 1.5 million species total).
---

II. LIFE CYCLE OF A 'TYPICAL' FUNGUS

Generalized Life Cycle of Fungi

REFER TO DIAGRAM FROM CLASS NOTES OR TO THE FOLLOWING: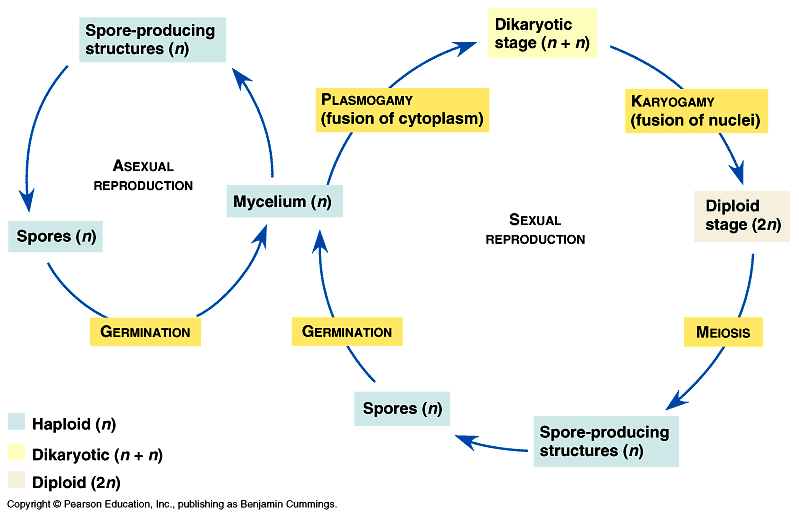 Also visit the following links for additional information:
Some fungi produce spores or other modified cells to reproduce sexually (perfect stage or the teleomorph), others to reproduce asexually (imperfect state or the anamorp), and some species are capable of reproducing both ways (holomorph).
---
III. HUMAN-FUNGUS INTERACTIONS
Beneficial Effects of Fungi
Decomposition - nutrient and carbon recycling.
Biosynthetic factories. Can be used to produce drugs, antibiotics, alcohol, acids, food (e.g., fermented products, mushrooms).
Model organisms for biochemical and genetic studies.
Harmful Effects of Fungi
Destruction of food, lumber, paper, and cloth.
Animal and human diseases, including allergies. Molds can be associated with allergies (to the spores), mycotoxins that contaminate food (e.g., grain, cheese, etc.), disease (depending on the fungus involved infections can be superficial, cutaneous, subcutaneous, mucocutaneous, respiratory, systemic, and/or opportunistic. Infections may be acute (rapid onset) or chronic (prolonged over time).
Plant diseases.
---
INTERNET LINKS TO USEFUL WEB SITES
---
FILM ON FUNGI SHOWN IN CLASS
---
The web page is maintained by Dr. Martin Huss.
---